Produktbeschreibung
The Hippy Killer model is a collaboration with Kutty Noteboom, world famous Bike and Hot Rod builder. This innovative new range of eyewear is both a functional and stylish riding sunglass. Over the past two years, Filtrate has been developing a sunglass design that would offer the rider an alternative to wearing uncomfortable goggles. During the design process, Kutty spent a countless number hours with the Filtrate team designing and testing the Hippy Killer. "Out of anything I have ever worn, I'll stand behind them…" states Kutty.
"With a streamlined design, our Hippy Killer collaboration sunglass directs wind away from the eyes while letting enough air to prevent the lens from fogging up while riding." states Filtrate co-founder Wade Sutton.
Filtrate's current "Working Class" collaborations include: The Proper, designed by Vinnie Morey, The Mayhem, designed by Matt Biolos and now The Hippy killer, designed by Kutty Noteboom.
FRAME
Acetate, individually hand-crafted for a premium finish with a personalized touch.
LENS
CR-39 – an optically correct, superior lens made of hardened resin. Half the weight of glass with superior scratch and impact resistance. Available with Filtrate acetate frames.
Kunden kauften auch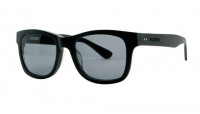 CHF 91.92 UVP CHF 129.06 Sie sparen 28.8% (CHF 37.14)