Produktbeschreibung
The "Proper", a collaboration between Filtrate Eyewear and The Proper Barbershop in Los Angeles, will be hitting stores next month. A much-anticipated piece, the "Proper" coincides with our 'Hand Made' campaign which recognizes the craftsman [someone who works with their hands] as the unsung hero. With the phrase "Working Class" written on the inside of the arm, "working class" reiterates the all encompassing idea that the craftsmen / artisan / blue-collar / builder is a legendary icon of f–king cool. With the swagger of 'The Fonz', the "Proper" is a much needed addition to any bike building, metal welding, tattoo sporting, grimey engine junkie.

Every piece in the Filtrate classics collection is hand-crafted in a time consuming process that ensures a premium finish and personalized touch.

LENS GUIDE
CR-39 – an optical correct, superior lens made of hard resin. Half the weight of glass with superior scratch and impact resistance.

FRAME MATERIAL
Acetate Cellulose – offers a larger variety of colors than other materials and is both flexible and durable. Acetate frames can be adjusted to fit by applying low heat.

HINGES
Stainless Steel – strengthened, optical quality hinges.
Kunden kauften auch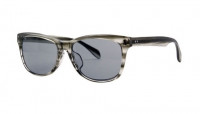 CHF 64.07 UVP CHF 91.92 Sie sparen 30.3% (CHF 27.86)